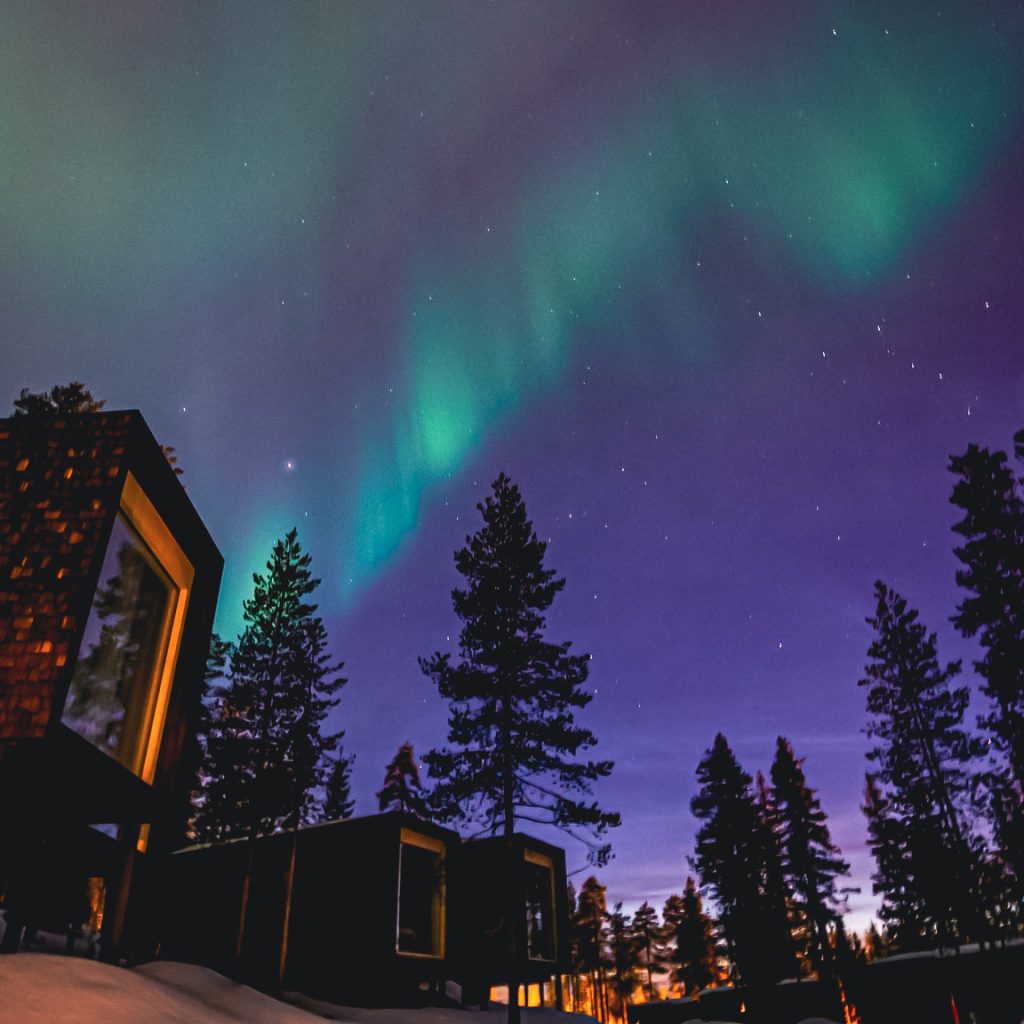 Contact info
Tarvantie 3
96930 Arctic Circle, Rovaniemi, Finland
+358 50 517 6909
info@arctictreehousehotel.com
For the exact location, please check the map below.
For group reservations:
sales​@arctictreehousehotel.com
+358 50 517 6943
Customer service is open Monday – Friday | 9 am – 4 pm
For media and representatives and travel- and lifestyle influencers:
media@arctictreehousehotel.com
Influencer application
You'll find us on the Arctic Circle…
Arctic TreeHouse Hotel is located on the Arctic Circle, in the town of Rovaniemi. Rovaniemi is located approximately 800 kilometres north of Helsinki, the capital city of Finland. There are a number of daily direct flights between Rovaniemi and Helsinki throughout the year. In the winter season, there are also direct flights from the United Kingdom, Ireland and Central Europe. Rovaniemi is also easily accessed by train and plane.
The distance between Helsinki and Rovaniemi is approximately 800 kilometres.
Flight time around 1½ hours
Train journey 8–12 hours
Road trip using the E75 highway approximately 10 hours
…next door to Santa Claus
The driving distance from the Rovaniemi town centre to Arctic TreeHouse Hotel is only 8 km. The town centre is easily reached with the Santa's Express Bus (no. 8), with the bus stop being right in front of the hotel. Timetable information is available from the reception. You won't need to look too far to experience Lappish exoticism and magical Christmas spirit. Right next to the hotel is Santa's home cavern SantaPark, and walking distance to the Santa Claus Village is only 2.2 kilometres.
If you fancy exploring the surroundings on foot, there is a walkway to the Santa Claus Village that takes you through the forest. You might even spot some reindeer on the way! Arctic TreeHouse is surrounded by forest and Arctic activities can be arranged to commence directly from the hotel grounds.
Arctic TreeHouse Hotel – SantaPark approximately 100 metres
Arctic TreeHouse Hotel – Rovaniemi town centre approximately 8 kilometres
Arctic TreeHouse Hotel – Santa Claus Village approximately 2.2 kilometres
For any questions you may have, feel free to reach out to us via the contact form.
Arctic TreeHouse Hotel
Tarvantie 3
96300 Arctic Circle, Finland
+358 505 176 909
info@arctictreehousehotel.com
Näytä Google Mapsissa